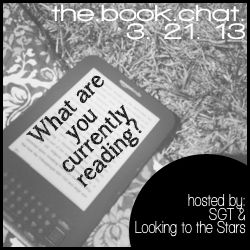 It's Thursday again! That means it's BOOK CHAT DAY! Yippee!
Today we are sharing the books we are currently reading.
I am reading The Maze Runner.
When Thomas wakes up in the lift, the only thing he can remember is his first name. His memory is blank. But he's not alone. When the lift's doors open, Thomas finds himself surrounded by kids who welcome him to the Glade—a large, open expanse surrounded by stone walls.
Just like Thomas, the Gladers don't know why or how they got to the Glade. All they know is that every morning the stone doors to the maze that surrounds them have opened. Every night they've closed tight. And every thirty days a new boy has been delivered in the lift.
Thomas was expected. But the next day, a girl is sent up—the first girl to ever arrive in the Glade. And more surprising yet is the message she delivers.
Thomas might be more important than he could ever guess. If only he could unlock the dark secrets buried within his mind
At first I wasn't sure I was going to like this book. They gladers use their own weird slang which was a little hard to get used to. There were so many questions that no one wanted to answer. It was also a little confusing because so many characters are thrown at you at as soon as Thomas arrives in the Glade. I had to keep flipping back to the beginning to figure out exactly who everyone was. "Was he the nice guy? The mean guy? I can't remember!" After I got used to the new words, became familiar with the characters, and at least some of the questions I had were answered the book became really interesting.The story moves along pretty quickly and there is a lot of action. You will spend most of your time especially at the beginning just as confused as Thomas. The confusion is part of the book though. If you want answers you have to READ. I'm about 3/4 of the way through the book. I really like it! I can tell I'll definitely pick up the rest of the books when I take this one back to the library.
You can link up every Thursday for the book chat!