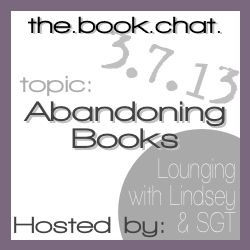 I haven't left too many books unread. I try to read book samples before I buy a book online or I'll read a few pages before bringing one home from the library or book store. I usually know what I'm getting into BUT sometimes things don't go so well.
Books I WISH I had abandoned
This was awful. I read it as part of a book challenge. I chose this book and once I started I just wanted to hurry up and finish so I could mark it as read. It had the potential to be funny but it ended up being very cheesy and irritating.
This wasn't a terrible story but when I finished I felt like I could have spent my time reading something much better. There is a baby in the story. The baby writes its own chapters about its life and view on things...it was just very odd.
Books I have abandoned
I just did not like this book. It really is like being trapped inside the mind of a crazy person. It is confusing at most parts and just weird at others. I think I read about 1/4 of the book and then put it down because I thought my brain might explode if I didn't.
This book really bored me. I thought it was going to be pretty funny and it could have been. Luckily I got it from the library so it wasn't really a loss to me.
I read Wuthering Heights and Jane Eyre in high school. I pretended I didn't like them and groaned along with everyone else over the reading assignments. Loving them was my secret. No one could know that I actually enjoyed reading! I really don't think that there was any required reading that I did not enjoy.
A few years ago I bought this collection of stories. Several times I've opened it, started reading, and put it down. I am going to pick it up again and read the stories...not all at once of course!
So what about you? Do you abandon books?
Will you pick them up again?