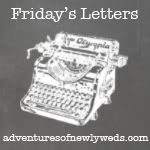 Dear Friday
Welcome! Welcome! It's actually felt like Friday for me since Wednesday. Noah had Thursday and today off from school so that the teachers can do their parent teacher conferences. I have been enjoying the extra sleep in days.
Dear Hair,
You currently look like this: I kind of want to cut you like this:
But I'm SCARED! I've been growing my hair for a long time. It's long, shiny, and pretty. It is also a pain in the butt. It's always in the way. I have to brush it a million times a day because it gets tangled so easily. I love being able to curl it and play with it...but truthfully I usually just pull it up in a ponytail so. But I like knowing that IF I wanted to spend tons of time drying and curling it I could.... I'm still unsure of what I want to do.
I'm only two chapters into my book. I know I'm probably already way behind. I'm going to do some major reading today and this weekend. I'm determined to finish all of my books. I'm not even concerned about winning...I just want to finish lol
Dear Family Members,
I am having so much fun finding Christmas presents for you!
Dear November,
I'm sorry that once you arrive I want you to hurry up and be over with already. You come before December. December has Christmas. Christmas is my favorite! I start getting the itch to pull out my tree, crank up the holiday tunes, and start decorating as soon as the last trick or treater has cleaned out my candy bowl. You have Thanksgiving and that's cool and everything, but you do not have sparkly lights, shiny ornaments, or give me that festive cheery feeling. Sorry.