Normally Thursday is book chat day, but with the BOOK SWAP going on Jessica is taking a tiny break. There is still time to join if you haven't yet. If you're interested leave a comment below with your blog link or good reads profile. Don't forget to include what kind of book you would be interested in.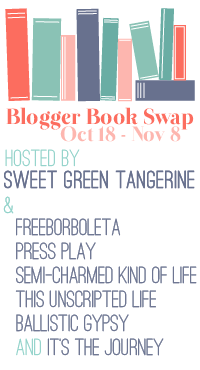 So since their isn't a book chat topic today I decided to talk about a topic that was discussed before I joined the chat. If you love books like I love books you should join the chat too! Just visit Jessica over at Sweet Green Tangerine for more details.
Everyone has their own opinion about which is better... The real printed book or the e-reader. I like my e-reader but I love books. I don't think it's the actual book itself that I love. It's the experience of buying the book or checking the book out. I love the way libraries and book stores smell. I love walking in and seeing all of the books lined up just waiting for me to choose one. I can flip through them and read a few chapters if I want before making a choice.
I like walking out of the library with an armful of books knowing I'll be back very soon to get more.
I don't dislike my e-reader. It has it's own perks. It's lightweight so I can take it anywhere. It fits nicely in my purse. I can read in privacy. I could be reading a scandalous racy novel and no one would ever know. I can store lots of books on just that one device.
If I had to give up one or the other I would give up the e-reader. It just doesn't compare to having a real solid book in my hands.
But thankfully I get to keep them both =)