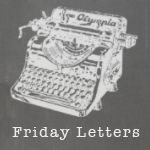 Dear Noah,
I teared up a little when you got out of the car this morning. You give me a kiss on the cheek every day before you get out of the car, open the door, smile and say, "Have a good day. I love you. Bye." You are growing up so fast and I just want to keep you little forever. You will always be my little boy no matter how old you are.
Dear WinterJam 2013!!!
Please Please Please announce your line up and tour dates. I'm getting very impatient. I want to see if it's even realistic for me to plan a trip home to go with my brother... The sooner you release this very important information the sooner I can try to figure everything else out.
Dear Bella,
I'm sorry I laughed so much when you ran in to the screen door last night. It really was very funny when you came racing across the deck and then flattened against the screen door. You looked up at me with your confused puppy eyes and what did I do? I laughed...a little too much. Sorry.
Dear Self,
This having a baby thing is turning out to be harder than I thought it would be. Everything happened so quickly when I got pregnant with Noah. I'm older now but not THAT much older. Every month that goes by with no baby, no baby, and no baby I start to worry more. Hopefully something will happen soon...