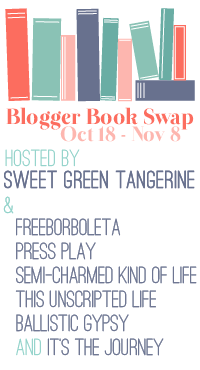 Jessica from Sweet Green Tangerine came up with the awesome idea of doing a blogger book swap. She asked me and these lovely ladies to co-host:
Free Borboleta
Press Play
Semi-Charmed Kind of Life
Ballistic Gypsy
It's the Journey
How could we say no?!?
Anyone who is interested will be paired with another blogger. You will choose a book for your partner. You can get to know your match through their blog, good reads page, or just ask some questions! I think it would be great to try and choose a book that you have already read. The book can be new or used. If you want to get involved...and I bet you do...here are the steps to follow...
So now that you are just as excited about this as me....
Place the blogger book swap button on your sidebar so your readers can join too!
Spread the word about the swap so that more bloggers will participate!
If you post about it on twitter, use the hashtag #bloggerbookswap.
And don't forget to leave a comment below with your
blog link, or good reads profile. Specify what types of books you enjoy.
Now sit back and wait for your email to arrive with your partners information!