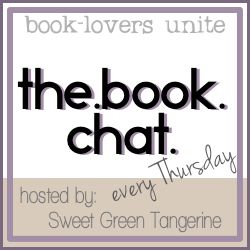 The book chat has been missing for a while because Jessica from
The Tangerine
has been without REAL internet since about April. Can you believe that? Me either. That's just inhumane... However now she has a reliable internet connection and the chat is back!
I haven't really been reading a lot this summer. I'm having a hard time finding books that I love and actually want to review.
I DID fall in love with these three books. Lucky for me they are all the first book in either a trilogy or series!
I have
Jessica (The Tangerine)
and
Brighton (Dear Brighton)
to thank for introducing me to the world of the Black Daggar Brotherhood. Dark Lover by J.R. Ward is the first book and it was GREAT! Thankfully the next several books are already out so I won't have to wait for a release date to
sink my teeth (ha ha ha)
into the next one.
I finished reading What's Left of me by Khat Zang in June. You can read my review
here.
The second book wont be released until September.
I started reading Birthmarked by Caragh M. O'Brien on Tuesday. I finished it yesterday. It was THAT good. I did not put this book down! I highly recommend you go read it....like now. I didn't realize until I was almost finished with it that it was the first book in a trilogy. That made me extremely happy.
Today I will start to read Almost Moon by Alice Sebold author of The Lovely Bones. I don't really know what I'm expecting from the book. The Lovely Bones was such a haunting book. The first line of The Almost Moon is, "When all is said and done, killing my mother came easily." So...ya...we'll see where this story takes me.
Welcome back book chat!!!!