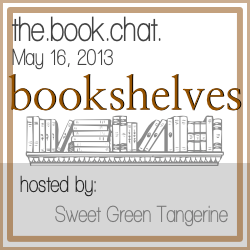 I like to write my posts the morning that I plan to publish them. Unfortunately last night our computer kicked it. At least I'm pretty sure its finally dead. Joey knows a lot about computers and he's been fixing for months maybe a year? It's time to get a new one. BUT they're expensive! So I'm blogging from my tiny netbook. I loved it at first. Now not so much. It's extremely slow and after a while my hands hurt from typing on the tiny keyboard.....
Anyway...
Today is the book chat!!! I'll struggle with my netbook because I can't miss out!
The topic is bookshelves. I've been looking at getting new wall mounted shelves for a while. You see... as I complained about in
this post
our furniture doesn't seem to fit too well in the house. We moved the computer desk into the family room and it took the spot of my large bookcase. Now my books, picture frames, and decorative items that sat on that bookcase are homeless. Sort of. I guess you could say they are being fostered on and in my dining room hutch:
EEK! Looks pretty bad huh? I hate walking through there and seeing that mess. In other news, I have BIG plans for a furniture makeover in the dining room. That stuff needs to be updated ASAP!
And now for some Pinsperation. I'd love to hang some shelves like these:
I like how these

shelves make the books look like framed art.
I like how messy but at the same time pu

t together this looks.
Are you kidding me? How cool does this look!?!
Hopefully soon I'll get around to getting the shelves. I feel like there are a million things I need to get done. None of them too important but all of them things I want completed SOON. I'm very impatient...
Happy Book Chat Day!!!!