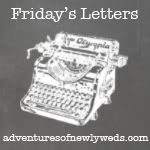 Dear USPS,
I am disappointed in the substitute mailman you sent yesterday...
Yesterday something a little disturbing happened. I was sitting in the living room and saw a mail truck pull in my driveway, heard a thud, and then saw the truck pull out of the driveway. I thought hmm that was odd. Maybe they left a package? I opened the front door and no package. Oh but what is that...way over on the opposite side of the garage? It's a package. So the mailman,thankfully this is NOT our regular mail person, pulled in the driveway and did not even bother to bring it to my door. He didn't even exit the truck. He just dumped it out the door of the truck. RUDE! If I hadn't looked outside and seen the package I would have run it over when I backed the car out.
It could have been worse:
I am so glad you are back from boot camp! That was a long two weeks! It was definitely worth it though. I'm glad we can actually walk by another dog now without the barking and growling. Success!
I'm glad you share my enthusiasm for all things Christmas. I had a blast last night driving home and looking at all the Christmas lights with you. =)
Dear Amazing Friend of Mine,
I am so excited for you! Moving back to Germany! I am jealous. We had such an awesome time there together and I know you'll love it all over again. However it will probably not be as fun because I won't be there ;)
Please be kind. Noah's birthday party is tomorrow and I'm hoping to hold onto some of my sanity. Tons of screaming hyped up children all confined in one building is not my idea of fun.
*Side note- I worked at Chuck E Cheese in high school....for 2 1/2 YEARS! I'm not sure how I managed that.
Have A Great Weekend!