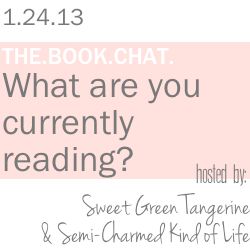 I actually haven't read very many non-fiction books. I definitely haven't read many autobiographies. I love Ellen. I was browsing the book selection on Amazon and I came across this book. I read a few sample pages, laughed a lot, and purchased it. It was also only $7.00 on my Kindle! Score!
I've never listened to an audio book but I can tell this would be one great book to listen to. Even just reading it I can hear Ellen's voice. She is so peppy and fun. I am about 3/4 of the way through the book. It is very funny, uplifting, and really just a happy read.
If you want to smile and laugh out loud...sometimes in public...read this book!
Do you love books? Join the book chat!
Head on over to
Sweet Green Tangerine
and link up!