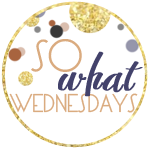 This week I'm saying SO WHAT if:
~ When I took the stroller out of the car at Target I found a package of chicken underneath it. I bought that chicken TWO WEEKS ago! It's a good thing it was sealed and didn't stink the car up. That's why I need to remember to remove the stroller before I go grocery shopping.
~ I downloaded what is supposed to be an awesome yoga app and haven't had a chance to use it.
~ I took a picture with Emily and only then realized how bad my split ends are.
~ My Christmas tree is still up... The rest of the decorations are gone though. I get points for that, right?
~ My house is a mess. I think it will always be in some stage of messy.
~ I said I would swap my morning coffee for tea because I put WAY less junk into my tea but haven't.
~ I cry when those P&G moms commercials come on.
~ I almost forgot that Noah has no school on Friday or Monday. He had to remind me...