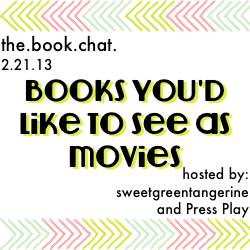 When I first hear that a book I love has been turned into a movie I am excited. Shortly after that I feel a little scared. Most movies don't live up to the books. So while I live in fear that the movie will shatter the awesomeness that was the book I still have hope that it will blow me away.
I would love to see
The Night Circus
as a movie. I know it would be visually stunning if it was done right. I can just see all the special effects and the beauty of it all playing out on the big screen.
I didn't expect to like
The Key to Rebecca
as much as I did. It was a great mystery/thriller and I'm sure it would make a great movie.
Goodnight Nobody
is a chick lit book BUT it is also a mystery. I loved it as a book and I'm sure I could love it as a movie.
And now I'm returning to my spot on the couch I have slept all day and I am still exhausted. I would also love to eat a salami sandwich but I'm not allowed to eat salami...grrrr Even if I was allowed to eat it I'm sure as soon as I smelled or tasted it I wouldn't want it anymore. Sigh.... second trimester please get here. Sickness and fatigue is SUPPOSED to fade them. Here's to hoping.