Today is
The Book Chat's
birthday. Usually
Jessica
gives us a topic to discuss, today she said,
"
So today, for the book chat prompt, if you'd like, just pick any topic over the last year. It can be one you already answered and you want to answer again, or maybe one that you missed the chance to answer before.
"
I've chosen a topic that I missed. I loved reading everyone's response and taking a peak into their world of reading.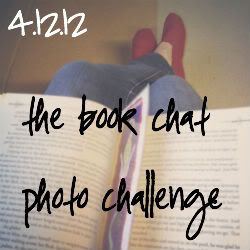 Much to Joey's annoyance, my end table often looks like this. I have a bad habit of reading a book and then just leaving it where I finished it.
Most of my book shelves are neatly organized. Most of them....
Sometimes the get shoved full of papers, toys, and things that don't really belong there.
I LOVE that Noah enjoys books. I often find him sitting in the
dark sneak reading long after I've told him to go to bed.
The book chat has been so much fun for me. If you love books you really should join in. You won't be disappointed! Happy Birthday to you book chat!