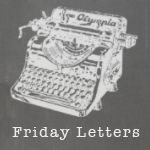 Linking up this Friday with Ashley from Adventures of Newlyweds
Dear people who make the park policies,
I have been to 4 parks this week. Only to find that I can not bring my dog with me. I can understand restricting them from the play ground and water areas. But to keep them out of the whole park is a little ridiculous. I just want to be able to walk her somewhere other than in our neighborhood. I found a park 30 minutes away that allows dogs...but I don't want to drive half an hour to go walk her and then drive half an hour to get home..
Guess I'll keep looking.
Dear Thanksgiving,
Hurry up! I'm ready to make the trip to my grandparent's house in Missouri. It has been along time since I've spent time there and I miss them a lot. My dad, future step-mom, sister, and maybe my brother will all be there as well. YIPPEE!
Dear Self,
Go Exercise!
It's just so hard.... I hate working out and love to eat. Do you see my dilemma? I think if I had a trainer who would come to my house and scream at me to get out of bed and get moving I could do it. I don't think that will be happening any time soon though...
Dear Noah,
Thank you for being so good in the morning this year. My sanity really needed it. It's nice to not have to scream like a drill sergeant for you to eat and get dressed on time.
Now let's work on bedtime....
If your bed time is at 8:00 then you should go to bed at 8:00, not secretly play with your toys in the dark. When I come to check on you and question why you are out of bed, "I forgot to stay in bed." is not a very good excuse.
Dear Self,
If you refill the Pur water filter thingy PLEASE make sure that the knob to dispense the water has not been left down.
I heard a drip drip drip. I though I hope that isn't the kitchen sink. It wasn't. There was water everywhere! I
ll never make that mistake again...
So glad it's Friday!!!!!