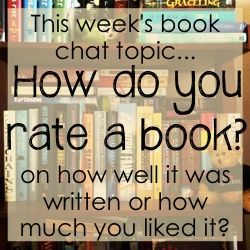 Today I'm linking up with Jessica from Sweet Green Tangerine for her weekly book chat.
This weeks topic is:

H

ow do you review/rate a book?
I usually review a book based on how much I enjoyed reading it. A "good book" to me is a book that keeps me interested. It makes me care about the characters and wonder what happens to them long after I've read that last page. If the book glues me to the couch, makes me disregard that pile of laundry, and forget to make dinner...then it's a good book. I usually find it hard to "find the words" when describing how I feel about a book...but I try.
I found this quote and just loved it:
Here are a some of my favorite books:
It has been a while since I've read a book that I absolutely loved. I recently read Hostile Witness and while I really enjoyed it, it is not one of my favorites. Here is my review...
Synopsis per Amazon, "When sixteen-year-old Hannah Sheraton is arrested for the murder of her stepgrandfather, the chief justice of the California Supreme court, her distraught mother turns to her old college roommate, Josie Baylor-Bates, for help. Josie, once a hot-shot criminal defense attorney, left the fast track behind for a small practice in Hermosa Beach, California. But Hannah Sheraton intrigues her and, when the girl is charged as an adult, Josie cannot turn her back. But the deeper she digs the more Josie realizes that politics, the law and family relationships create a combustible and dangerous situation. When the horrible truth is uncovered it can save Hannah Sheraton or destroy them both."
I only read this book because I was able to download it for free to my kindle and I liked the overview of the story.
I've never read a Rebecca Forster book before. It's easy to follow, fast paced, and entertaining. During the court room scenes I felt like I was IN the court room watching the crazy trial. It has plenty of suspenseful moments and unexpected turns. I could not put it down!Yet still it's not a favorite. The details of the story didn't really stick with me. I can't really remember all of the character's names or how everything played out. I've forgotten all those twists and turns. When I review a book I say it's a good book if the story stays with me. So while it was an enjoyable read I didn't fall in love with it. It was kind of a bridge book to get me through to the next book on my list.
This book is actually the first in a series of books following Josie and the cases she takes on as an attorney. I've read the two books following this one,
Silent Witness
and
Privileged Witness.
They were both good but I didn't enjoy them as much as I did the first book.
Expert Witness
is the final book in the series and I have not read it yet. It's on my "to read" list, but only because I cant just not finish the series. I don't expect it to be as good as the first book but we'll see.