When I tucked Noah into bed last night I thought of all the mothers who wouldn't kiss their babies goodnight. And so as we said our prayers, goodnights, and I love yous, I cried sad silent tears. This is not something I will tell him. I don't want him to be afraid or worry about school. I still think he's too young to know that things like this happen. I have such deep sorrow for all of the families, children, and just everyone touched by this tragedy. I pray for their healing and peace.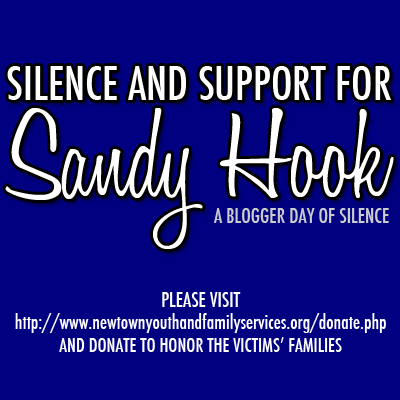 On Tuesday, December 18th, there will be a blogger day of silence. We will post the button and that's it. Please try to not post anything else that day if possible.
We are also raising money that will go to an organization in the memory of this tragedy. The organization is called
The Newtown Family Youth and Family Services
. Here is the official description of the support service we are donating to:
"Newtown Youth and Family Services, Inc. is a licensed, non-profit, mental health clinic and youth services bureau dedicated to helping children and families achieve their highest potential. NYFS provides programs, services, activities, counseling, support groups and education throughout the Greater Newtown area.

ANY DONATIONS MADE TO NEWTOWN YOUTH AND FAMILY SERVICES WILL BE DONATED DIRECTLY TO THOSE EFFECTED BY THE SANDY HOOK ELEMENTARY SCHOOL SHOOTING."
Please visit THIS PAGE to make your donation.
We can't imagine how they must be feeling, especially this close to the holidays. We would love for you to spread the word on your own blog, Facebook, Twitter, etc. Let's make a difference and use blogging in a positive way. Thank you in advance for participating.
Love,
The Blog World